There are two types of packers; those who begin packing over a week before a trip and those who quickly shove everything into a bag the night before. Whichever type of packer you are, we've created a Love Trails Festival Kit List, so that nothing's left behind.
Camping
Whether you're camping or glamping in one of our fancy tents, there are a few items you definitely don't want to forget. A head torch for one, is a must, you may not use it on a run but it will certainly come in handy when navigating your way back to the tent after a few beers - or when you're scrambling to find the toilet late at night.

Only in you are in general camping (ie. not in a bell tent):
●     Tent
●     Sleeping bag
●     Pillow
●     Roll mat

For everyone:

●     Reusable cup
●     Light for the tent (optional, but handy!)
Clothing
Though we've been graced with beautiful sunshine for the last two years at Love Trails Festival, the British weather is unpredictable. Keep an eye on the weather and pack accordingly - though we'd always recommend packing extra layers for the evening, as it can get a bit chilly.
●    Don't forget your fancy dress outfit for Saturday night. The themes are... "Fast And Speedy" and "1970s Time Machine"
●     Waterproof running jacket
●     Waterproof trousers
●     Running clothing (shorts, t-shirts, leggings, sports bra)
●     Underwear
●     Socks
●     Warm layers for evening (jumpers, down jackets etc.)
●     Trail running shoes - Salomon & adidas TERREX will also have a great range of shoes available to demo at the festival
●     Wellies or hiking boots
●     Spare trainers
●     Flip flops are always nice after a long day on the trails too
●     Running Pack/Race Vest
Food and drink
There will be plenty of food and drink available to purchase on site, from breakfast to dinner, from some of our great on-site stalls, Atta Food, Coopers Coffee, Gower Salt Marsh Lamb, Milgi, Pizza Love, Habibis, Oatopia, Mr Croquewich, The Grazing Shed, Polental & The Ox Club. There's no essential need to bring any food at all to Love Trails. That said, you can bring your own food and drink into the campsite and we definitely recommend bringing your preferred (tried and tested) running nutrition for the runs.

●     Your tried and tested energy bars & gels - TRIBE will also fuelling our runs with their awesome energy bars
●     Electrolytes
●     Peanut butter - because are you even a runner if you don't carry peanut butter...
●     Dried fruit and nuts

Alcohol
Love Trails Festival has several bars offering delicious, ice cold Camden Town Brewrey draft beers, wines, Welsh cider, non-alcoholic drinks, shooters, wine, shots, even our own custom brewred pale ale. These are offered at very reasonable prices (£3.50 to £5 a beer) cheaper than you'd get at most festivals. Please refrain from bringing your own alcoholic drinks to Love Trails.
If you would like to bring your own alcoholic drinks, these must be consumed in the campsite only, NOT the festival arena. Bag searches and secuitry checks are in operation this year and security have been instructed to confiscate drinks purchased off-site if required. Under no circumstances is any glass allowed onto the festival site.
There's really no need to be drinking warm beer back in the campsite, please help support Love Trails and spend your money at our resonably priced bars instead! :)

Accessories & Toiletries
It's a festival. Power will be very limited so bring your battery packs or go phone free for the weekend. We do have showers... (Still need a shower pass? Get yours here.) But you'll need to bring your own towel and shampoo.
●     Battery pack
●     Bio-degradable glitter!
●     GPS watch (Optional)
●     Head torch - if you don't have one, our friends over at SILVA recommend the Trail Runner 4X
●     Torch - if you don't have a head torch..
●     Soft flasks
●     Sun glasses
●     Hat (sun cap & wooly)
●     Gloves
●     Buff
●     Flannel (more sustainable option than wet wipes)
●     Shampoo/conditioner
●     Toothbrush/ toothpaste
●     Hair brush
●     Towel
●     Sun cream
●     Vaseline
●     Tissues
●     First aid kit (antiseptic wipes, blister plasters, tape, bandage, painkillers)
Still need a ticket to Love Trails?

£149/pp tickets to Love Trails Festival SELL OUT on the 30th June.
Don't leave it too late! Book you ticket now here: www.lovetrailsfestival.co.uk/shop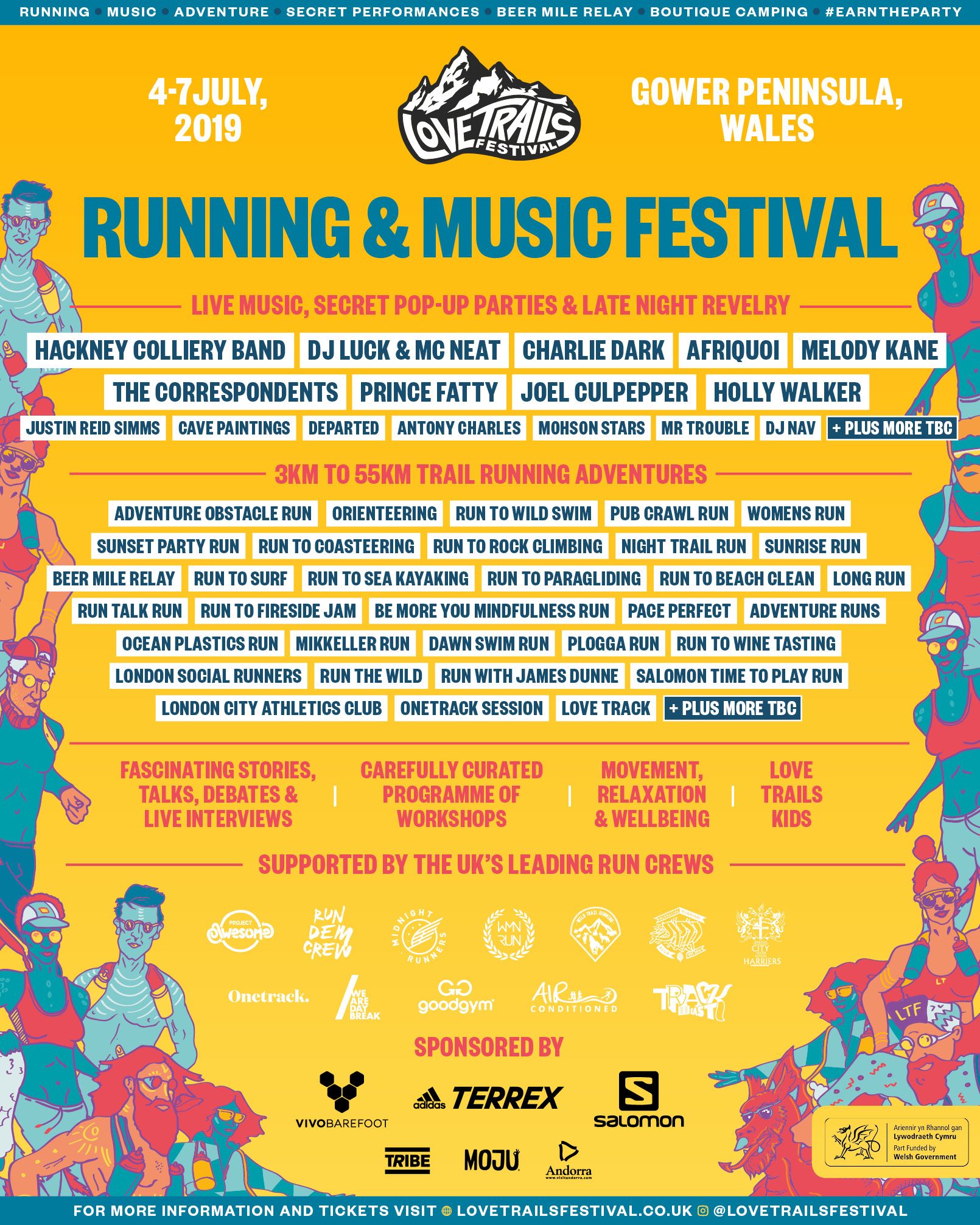 ---