If you joined us at Love Trails Festival this year, you'll know we hosted the first ever* Official** World Beer Mile Relay Championships, following the event growing from a bit of fun to a semi-serious event over the last three years. In the region of 400 people entered, but only one team was crowned the the beer mile champions of the world!!

* the first ever in Wales
**not official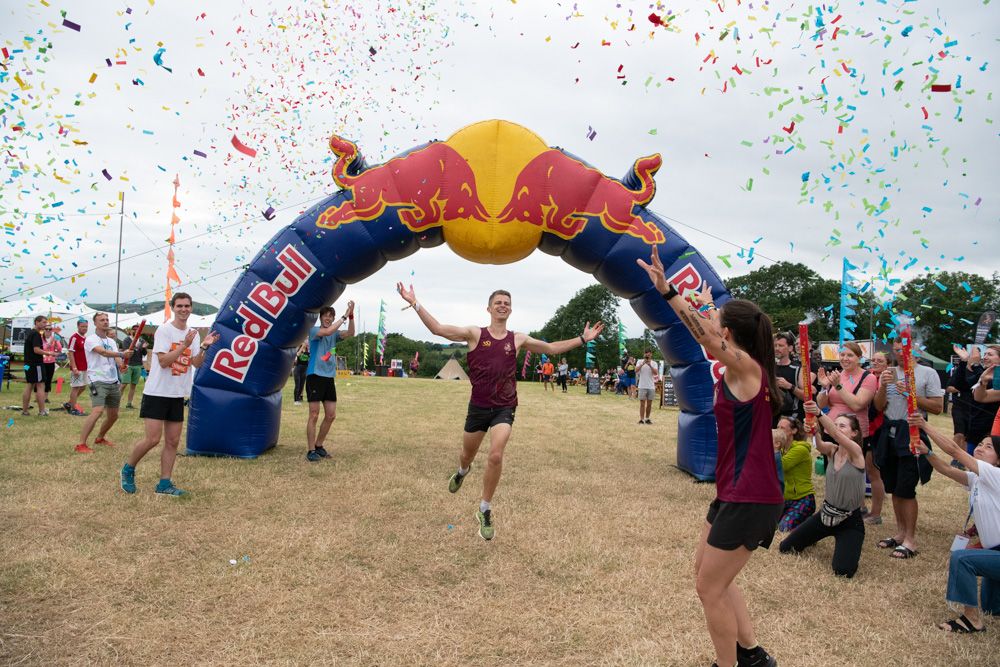 So what is a 'beer mile relay'?
Teams of four go head to head to see who can down a beer the quickest and complete a mile. One person from each team drinks a can of beer - in this case it was Love Trails own Pale Ale created in collaboration with BeerRiff Brewrey in Swansea -  before running 400m, tagging their teammate, then the next person goes, like a relay. The first team to complete the mile, four 400m laps, wins. There are a few rules too. Your beer can must be unopened until the start gun sounds, and upon drinking your can, you must put it on your head unsidedown to prove it's empty. Spillage or not finishing your beer results in time penalties!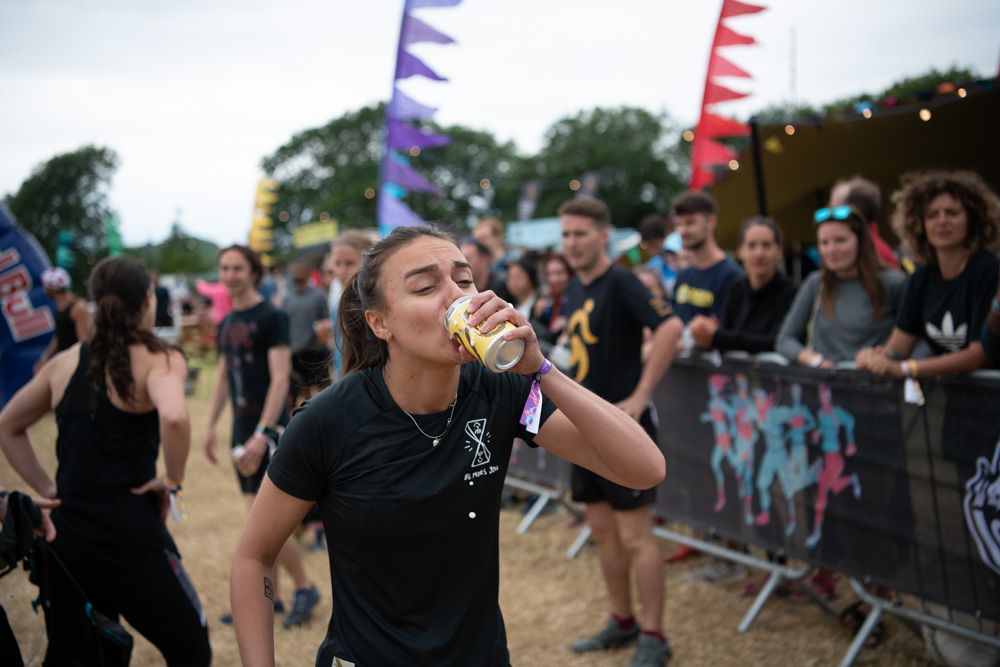 The Championships
With over 100 teams of four entering the beer mile this year, we dedicated a full Saturday afternoon to the event; a brilliant combination of beer, running, music from JFB (a world famous scratch DJ) and the Aber Taiko Drummers... + some "friendly" competitive fun.
Danny Bent hosted the beer mile relay with fellow running dude Huw Jack Brassington - they're both also pretty good at running and drinking beer and actually won the beer mile at Love Trails 2017.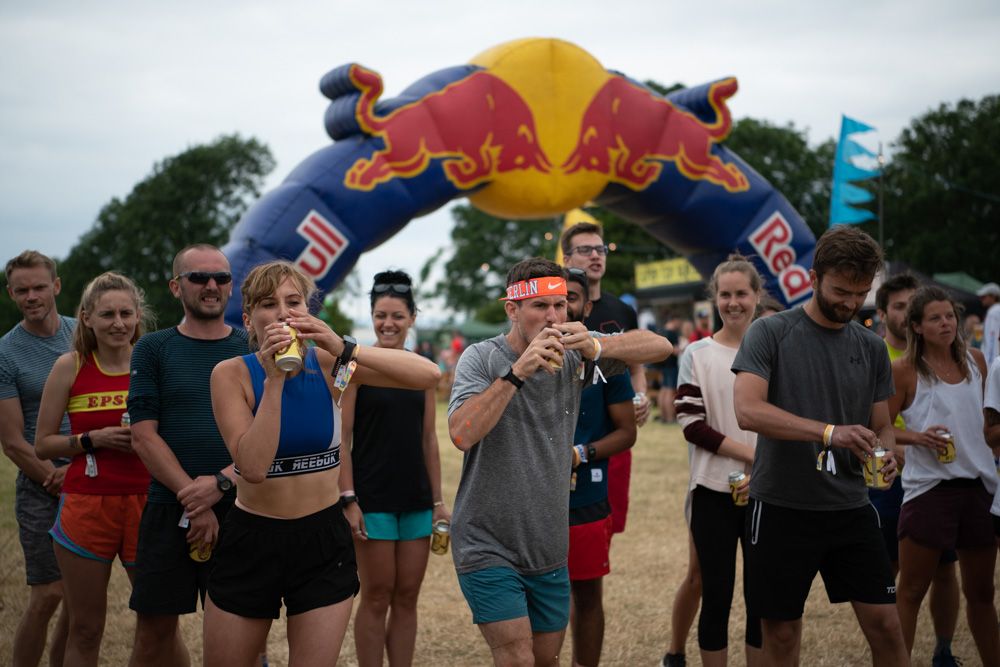 "Downing a can of beer and then running 400m as fast as you can is tough. Most people are either better at the drinking bit or the running bit, but if you can do both, you're on to a winner," says Bent.
"We try and encourage a little healthy competition, little nudges are fine, but definitely no skimming on the beer drinking," adds Brassington.
"Next year, I think we should ban beards and man buns; people are using them to soak up beer - and it's not like they are very aerodynamic anyway."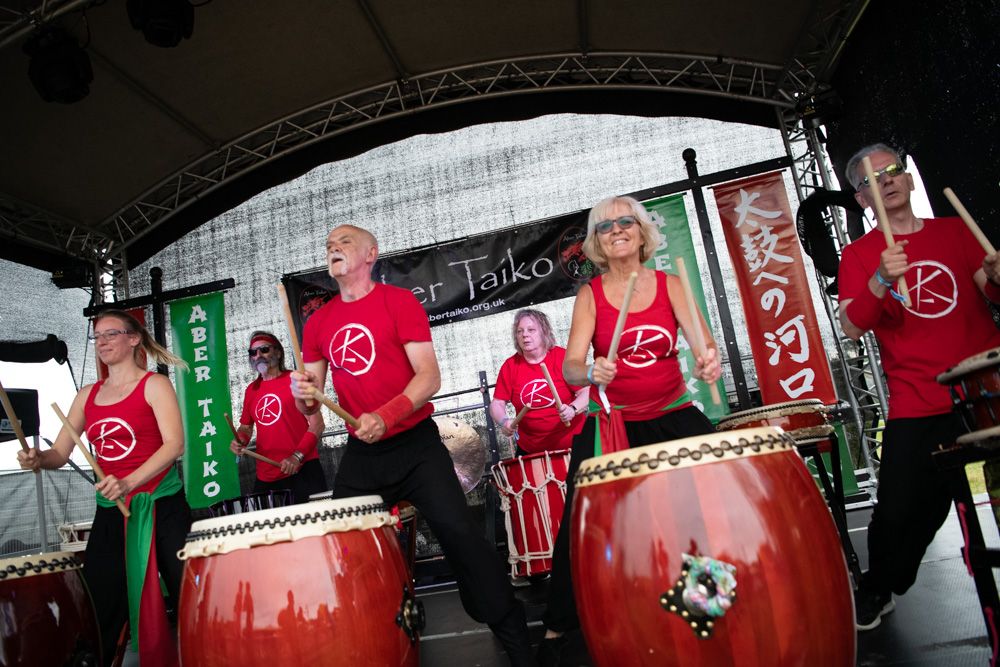 For the teams who got through to the semi-finals and the finals, they had to drink up to three beers each in total - imagine all that beer rolling around in your stomach when you're running? "There were definitely a few green faces but each person deserves massive credit!" adds Bent.
Some teams came dressed in costumes, our favourite being the flight attendants, rocked by one of the Midnight Runners teams, while others sported their crew or running club Ts. Our hosts definitely got into the spirit too, with Bent wearing flowers in his hair and Brassington a little glitter on his cheeks.
The Beer Mile World Championships is the only competitive run at LTF. It's rowdy and full of banter but every race ends with a smile and a fist pump, or as Brassington calls it 'Tatws'. It means potato in welsh and he encouraged everyone to say it as they fist pumped, because the fist looks like a potato… must a welsh thing.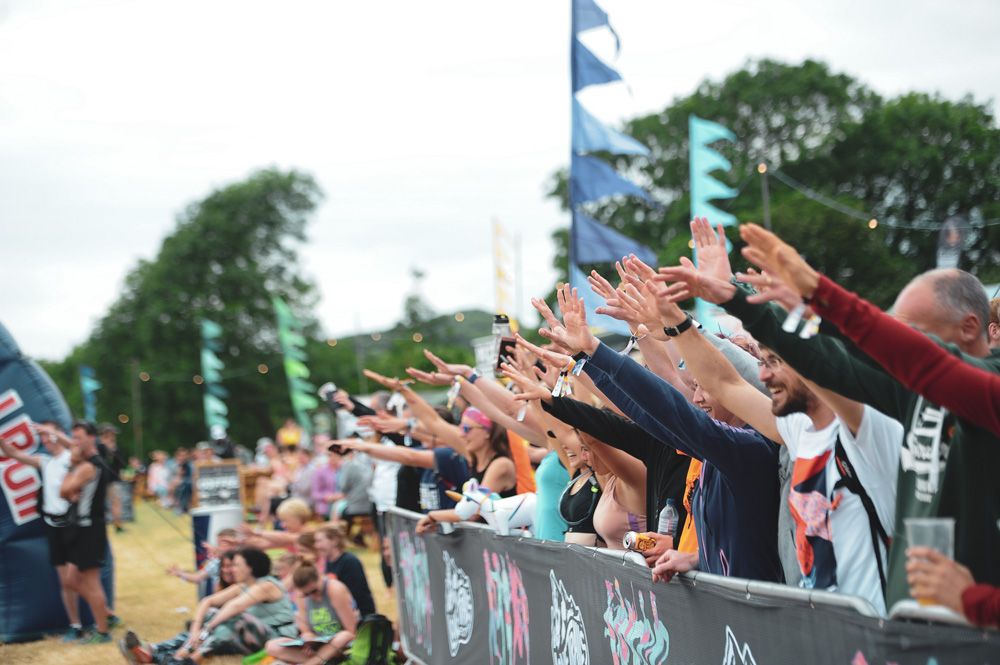 The Final
After an eventful couple of hours watching the teams run circles around the main stage, scratch DJ JFB raised the stakes (and the beats) for the grand final. The atmosphere was electric. If you weren't running, you were cheering - most likely with a beer in your hand.
The final saw the two semi-final winners go head to head in a battle for the win. Heart rates were high and beer was all over the place, as each person gave it everything they had left. But in the end, there can only be one winner…. The Southampton (University) Stags.
The beer-ery, time penalty receiving (owning to spilt beer), short shorts wearing, university going team was made up of decathlete Jon Pairman, long distance runner Liam Barry Carroll, middle distance runner Jon Laney, and sprinter and hurdler, Elena Cardan, who was only brought into the team two minutes before the start of the race, when the boys realised the team needed to have at least one girl to take part.
"They knew I could run but they didn't know if I could drink - I was actually amazed by the drinking abilities of my teammates," says Elena.
With such diverse athletic backgrounds, the team don't actually train together either and it wasn't until they got through to the final rounds that they started to take it seriously.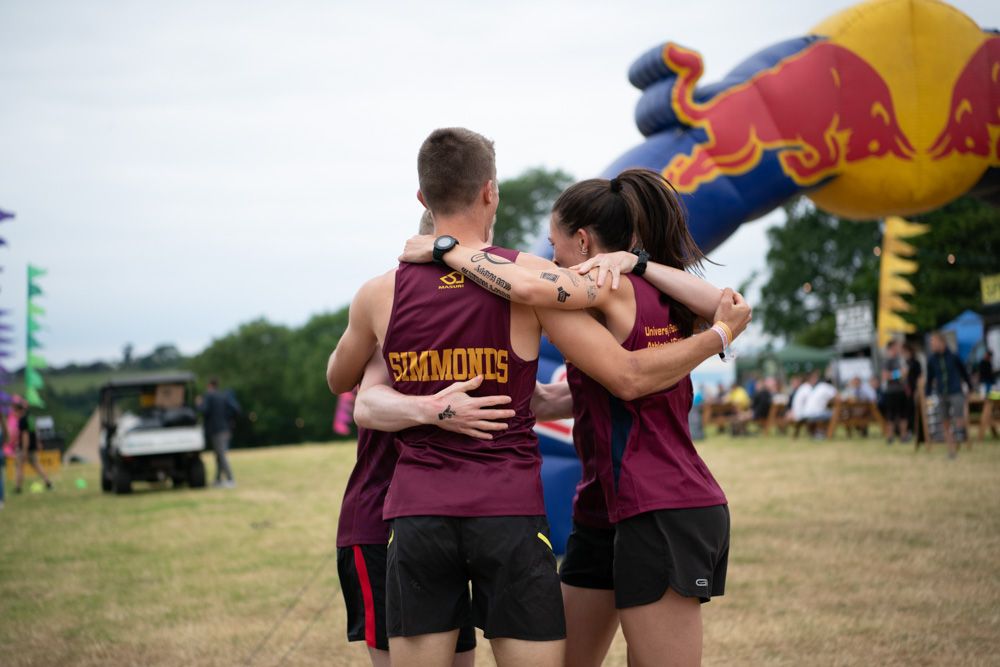 "The semi finals were the toughest; the legs felt tired, we were a few beers deep and all the teams were really strong," adds Elena. By the final round, the Southampton Stags were running on pure adrenaline and motivation. Clearly, this group spends as much time drinking beer as they do running because there was no catching them, completing the beer mile in a world championship qualifying time!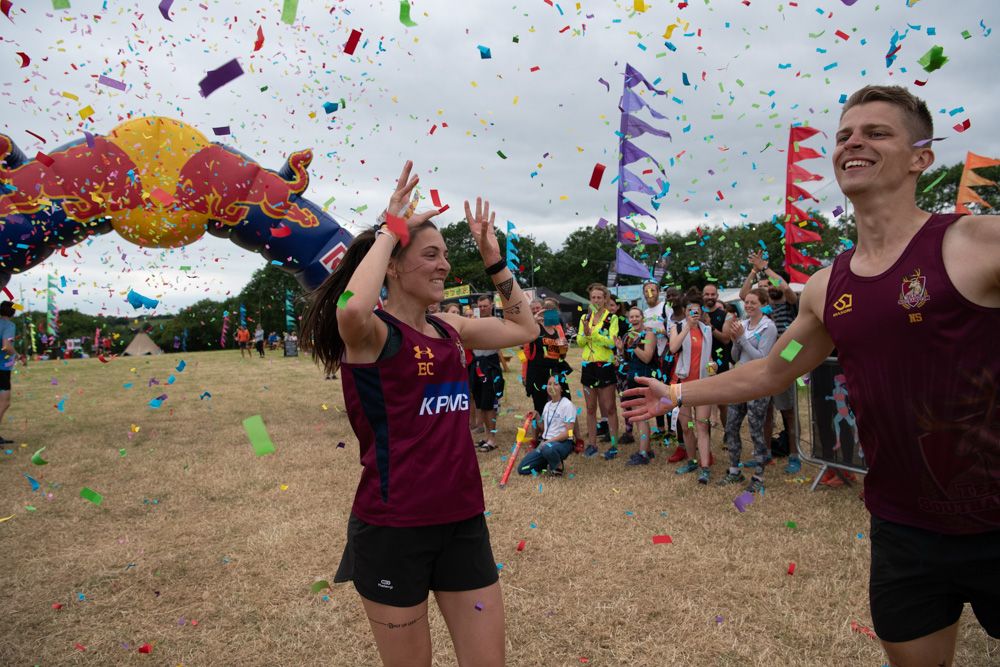 Love Trails Festival 2020

Love Trails Festival 2-5 July 2020 'Early Bird' tickets are on sale now! Grab one of the last remaining tickets to next year's festival here: www.lovetrailsfestival.co.uk
All photos by Simon Roberts Photography.
---